News
Progess update: September 2022
16 September 2022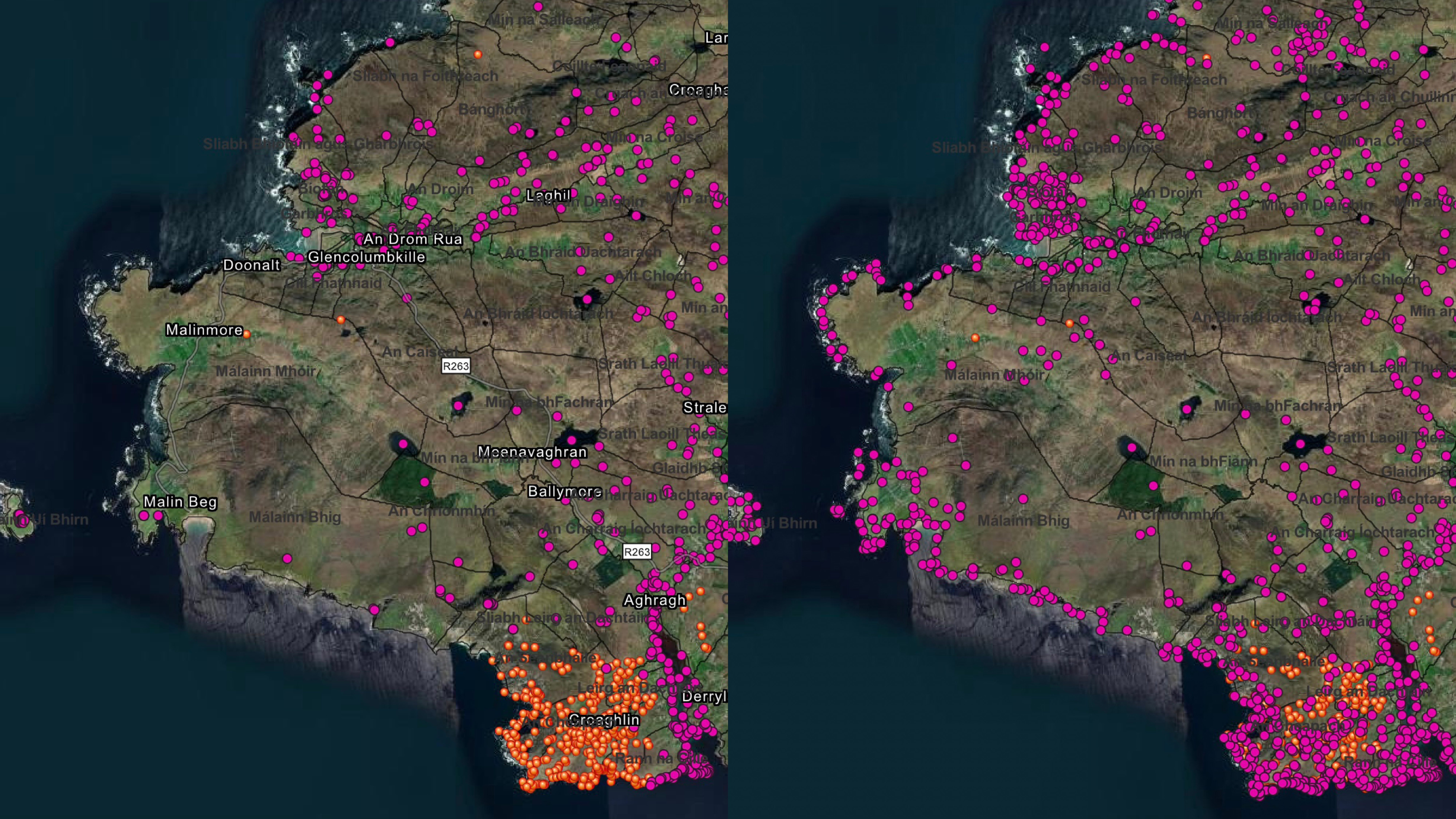 Gleann Cholm Cille placenames map September 2021 (left) and September 2022 (right).
We have just published our latest updates to the placenames map! It's been a very busy few months for the project but the results make it worthwhile:
We've added an additonal 700 sites to the map—that's over 1,300 sites and more than 1,700 placenames. This year, we concentrated very much on coastal names, while also making progress in the regions around Garbhros, Port, Reachlainn Uí Bhirn and Mín na Croise. Of course, much of this data is still provisional and we welcome any feedback that assists with the accuracy of locations or with our understanding of the placenames and their stories.
The placenames map now has a search facility, meaning you can search for particular names.
We've added an extensive collection of photographs, videos and audio files to records on the map.
For the first time, we have created three Story Maps. These are interactive articles that allow us to draw out specific stories from the large amount of information we have gathered. View them here.
We have had the benefit of 35 people who directly contributed their knowledge to the map so far, as well as drawing on an extensive range of written and digital sources. New team members Niamh Doherty and Patrick Carr also brought great injection of energy to the work. In May, we enjoyed visiting Coláiste na Carraige and talking to the students about the placenames in their areas. We hope to work more closely with local schools in the coming months.
We could not have completed this work without funding we received from The Heritage Council, through its Community Heritage scheme, as well as our other partners, Oideas Gael, Béal an Phobail and Údarás na Gaeltachta.
---
Logealaín: new initiative combines art with our placenames heritage
27 August 2022
We are delighted to be the recipients of a Donegal Culture & Creativity Grant 2022, a Creative Ireland programme awarded by Donegal County Council with the support of the Department of Toursim, Culture, Arts, Gaeltacht, Sport & Media. The purpose of the grant is to produce an attractive, imaginative printed placename map for southwest Donegal based on the data gathered as part of our placenames project. The map will be distributed for free to local schools, businesses and voluntary groups.
We are working on the map in collaboration with artist Tom Cosgrove (Beoigh), known for this beautiful illustrations of various Irish counties. Watch this space!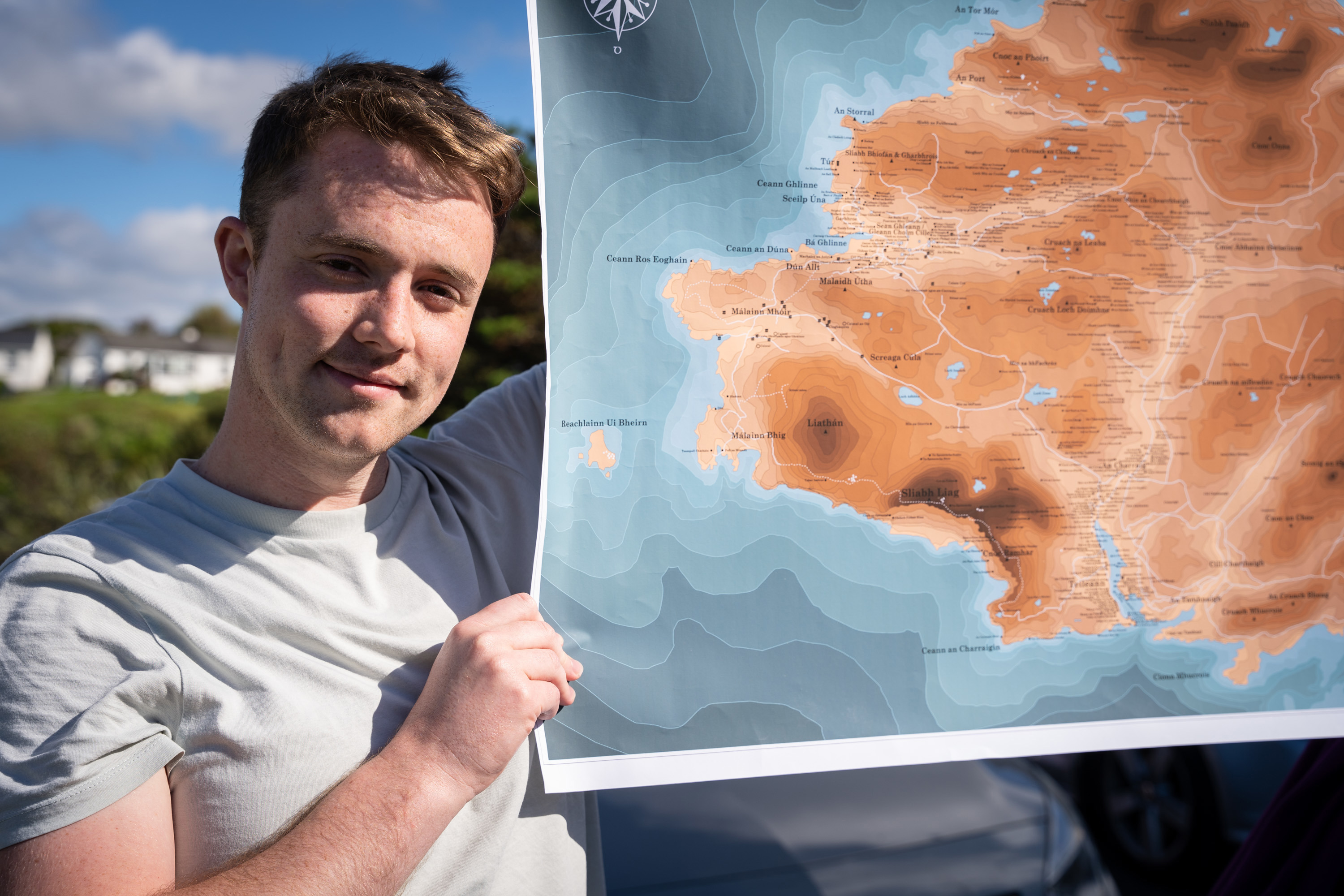 Artist Tom Cosgrove with a draft version of the placenames map.
---
Donegal heritage groups take part in first digital mapping workshop
30 June 2022
Six heritage and community groups from across county Donegal were represented at our first public placenames mapping workshop, held in St Columba's Comprehensive, Glenties. Digital mapping technology was the focus of this workshop and Dr Susan Hegarty, School of History & Geography, DCU provided us with fantastic resources and training in respect of the ArcGIS online platform. Dermot Diamond and Rónán Ó Dochartaigh shared experience from the Mapping the Heritage of Gleann Cholm Cille project, while Duncan McLaren and Tomás Mac Conmara discussed the Downstrands Heritage Audit.
Participants were drawn from groups such as Coiste Oidhreachta Chill Chartha, Loughros Heritage Group, Coiste Oidhreachta Ghleann Fhinne and Coiste Logainmneacha Rann na Feirste. We are particularly grateful to Donegal GAP History & Heritage and St Columba's Comprehensive who hosted the workshop.
This event was funded by The Heritage Council through its Community Heritage Grant scheme.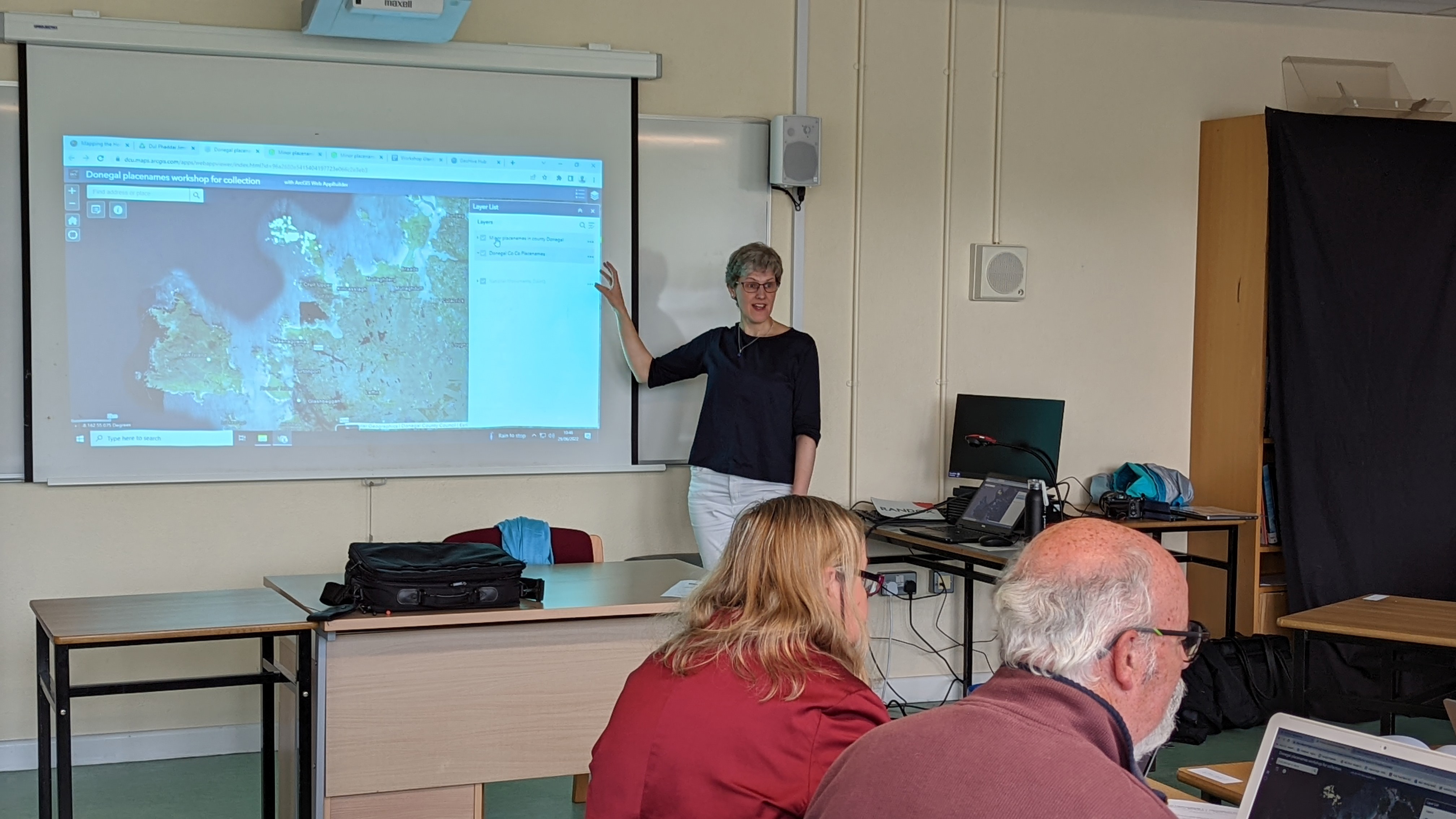 Dr Susan Hegarty, School of History & Geography, DCU demonstrating the ArcGIS digital mapping platform.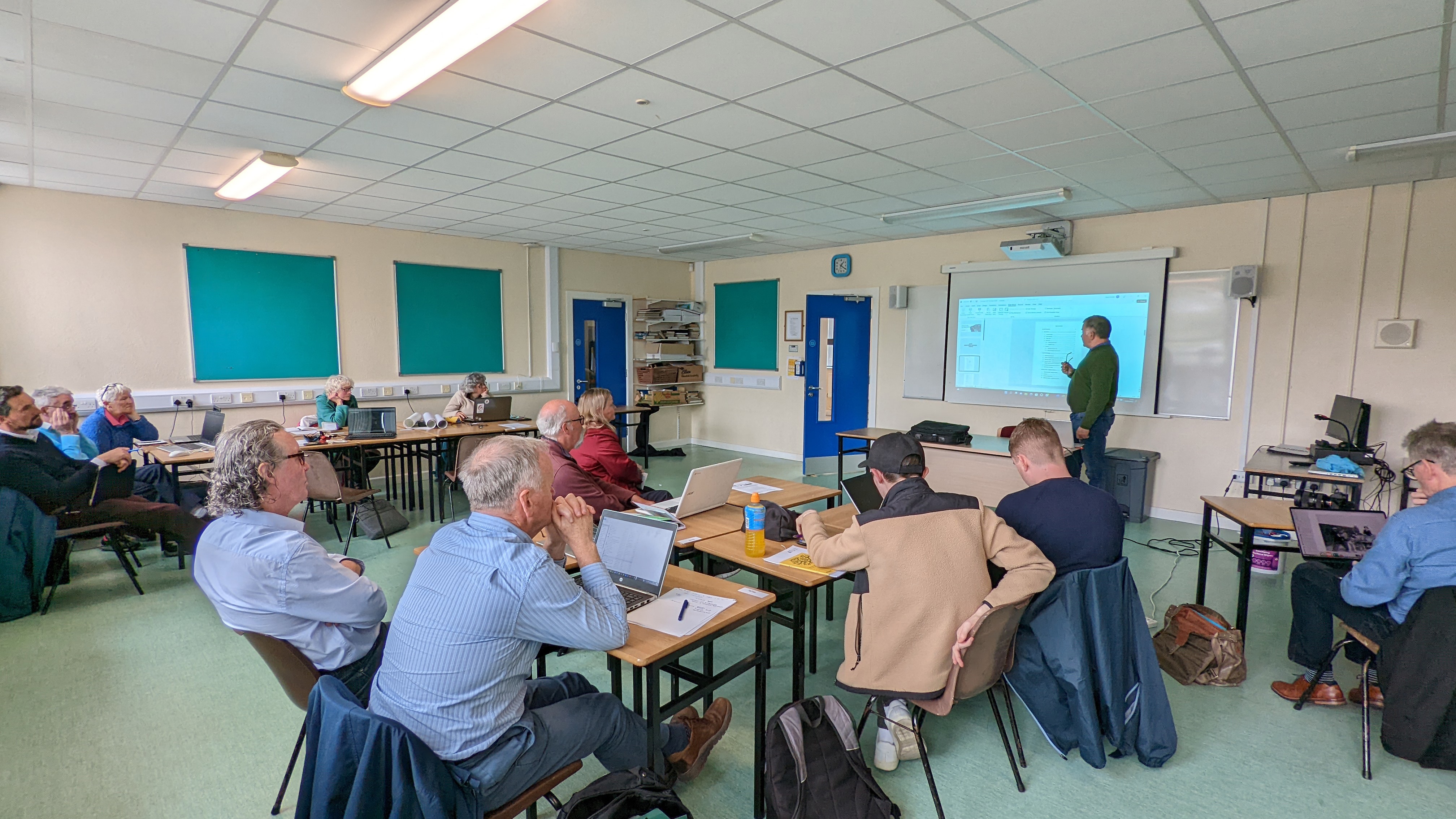 Duncan McLaren, Dedalus Architecture, discussing the Downstrands Heritage Audit.
---
Placenames Workshop in Dublin City University
14 May 2022
Project team members Aisling Ní Churraighín and Rónán Ó Dochartaigh gave a talk each at a recent placenames workshop, Placenames in bilingual areas, hosted by Gaois, Fiontar & Scoil na Gaeilge, DCU. A revamped version of the Placenames Database of Ireland, www.logainm.ie, was launched by Minister of State Jack Chambers TD as part of the workshop. We very much enjoyed meeting groups from across Ireland involved in collecting placenames!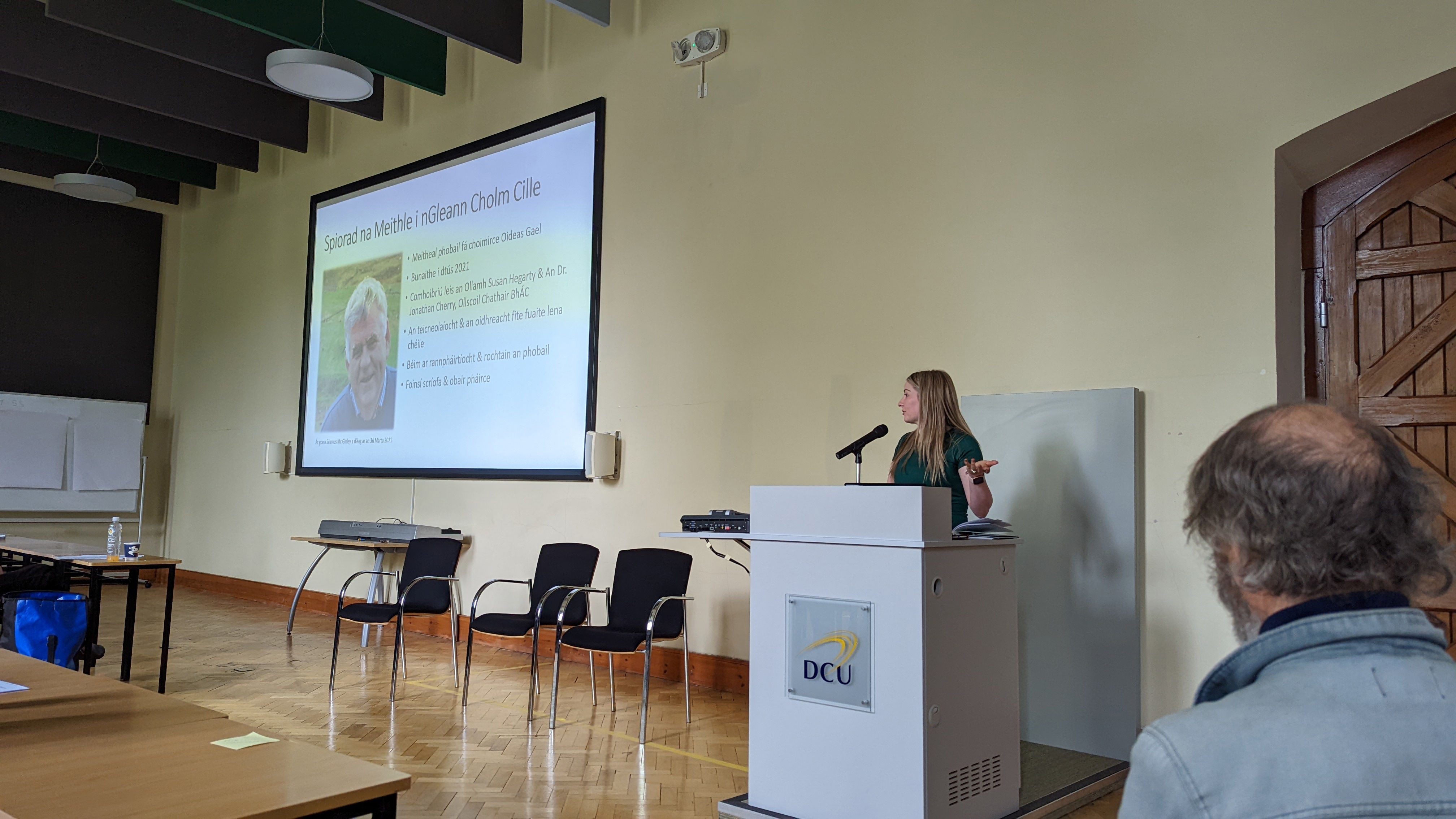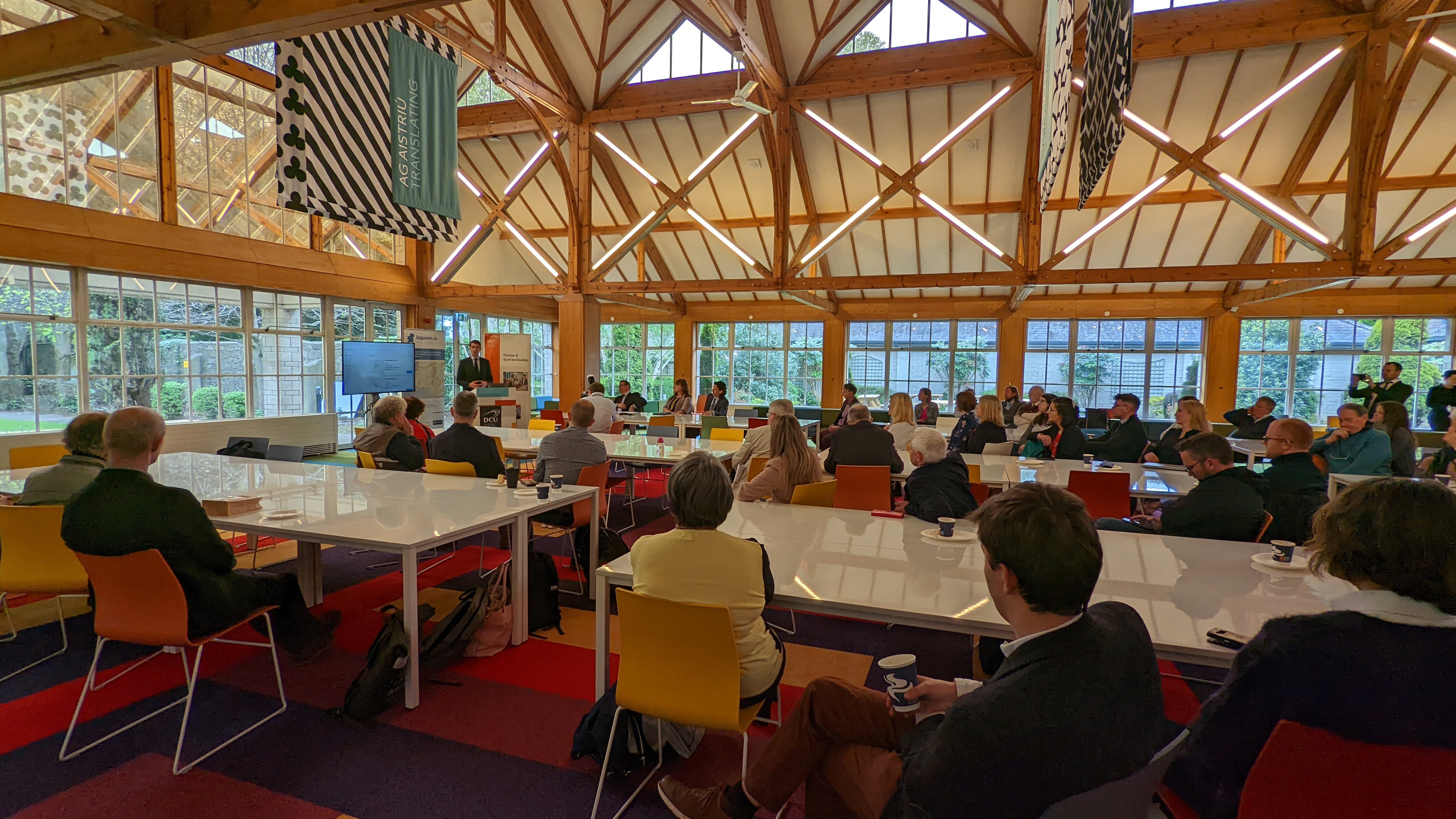 ---
Heritage Week Award
26 October 2021
We are delighted to announce that our project Mapping the Heritage of Gleann Cholm Cille Parish received the National Heritage Week 2021 County Award for Donegal. Delivered during the COVID-19 pandemic, the project took the form of a multimedia presentation on the placenames heritage of southwest Donegal and our efforts to pass it on to the next generation.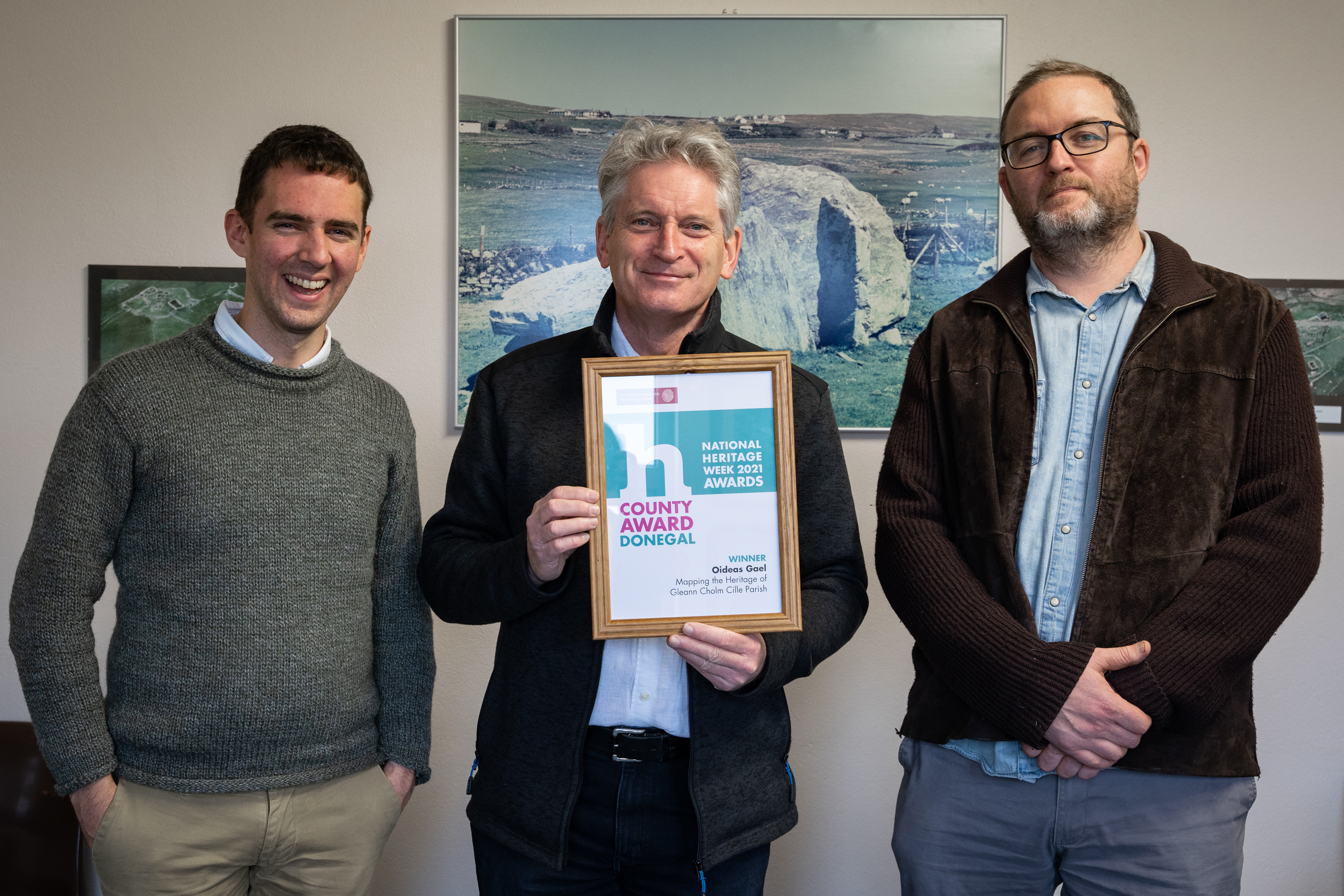 Rónán Ó Dochartaigh, Dermot Diamond & Rónán Ó Gealbháin with the Heritage Week Award certificate.
Note: While 2021 award entries have now been removed from the Heritage Week website, you can still view the videos from our project below.
---